Keyboard Cat
Charlie Schmidt, Fatso the Cat, 1984
Keyboard Cat is an Internet meme starring Charlie Schmidt's cat, Fatso. It was Schmidt who manipulated his cat in such a way that leads viewers to believe Fatso is playing a nice upbeat tempo on a keyboard. The video was taped back in 1984 and Schmidt put it on YouTube in June 2007. He named it charlie schmidt's cool cats. Later he changed the title to Charlie Schmidt's Keyboard Cat (THE ORIGINAL). Keyboard Cat was further popularized by Brad O'Farrell, Stephen Colbert and many others. People love seeing Fatso play on his little keyboard. It was ranked #2 on Current TV's '50 Greatest Viral Videos' list.
More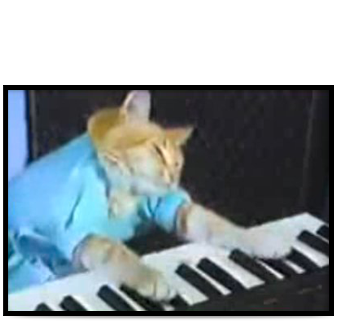 AYBABTU
Taoplan, 1998
"All your base are belong to us" comes from the opening scene in the Sega Mega Drive version of the 16-bit video game Zero Wing. The phrase was an awkward translation from the original Japanese version. It became a very popular catchphrase that swept across the Internet, but its first appearance is hard to trace due to Web sites closing down. The "All your base" phrase and the dialogue scene went viral on forums in 2000. The introduction sequence of the video game contained many more hilarious broken English phrases (Engrish) like "You know what you doing" and "Somebody set up us the bomb".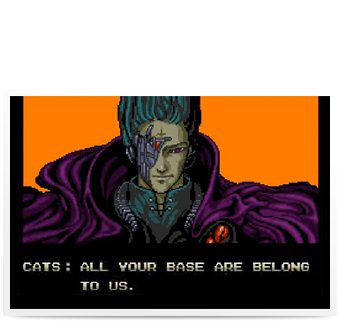 PBJT
Ryan Gancenia Etrata, Kevin Flynn, 2000
This dancing banana became a hit in the early 2000s. It's an animated dancing banana character combined with the song Peanut Butter Jelly Time by the Buckwheat Boyz and is known for being both obnoxious and hilarious. The original Flash animation was created by Ryan Gancenia Etrata and Kevin Flynn, who posted it on forums in 2002. The meme was even referred to in an episode of the animated television series Family Guy. Brian Griffin, the anthropomorphic dog, dances and sings the song in a banana outfit. We just love that.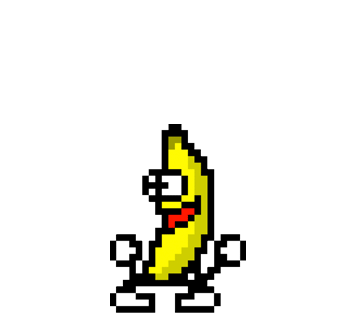 Star Wars Kid
Ghyslain Raza, 2003
In 2002, 15-year-old Ghyslain Raza taped himself mimicking Darth Maul from Star Wars I: The Phantom Menace. The tape was never erased and students soon found out about it. The tape became one of the very first Internet memes; The Star Wars Kid spawned many spoofs and parodies on the Web. And although Ghyslain became very popular and many viewers found him endearing – there even was a petition to get him a role in a Star Wars movie – Ghyslain's saga was not a very pretty one. He endured a lot of harassment from fellow students and dropped out of school. The Star Wars Kid meme became a prime example of cyber bullying.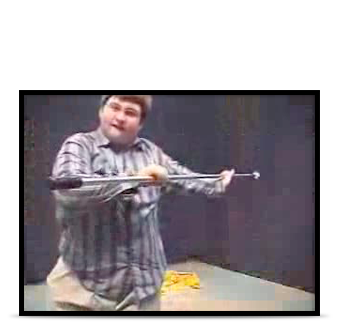 Numa Numa guy
Gary Brolsma, 2004
In December 2004 18-year-old Gary Brolsma uploaded a quirky video of himself mimicking the song Dragostea din tei of Moldavian pop group O-Zone. Gary became an overnight Internet phenomenon and was nicknamed the Numa Numa guy. By June 2012 the video called Numa Numa Song had been watched over 700 million times. Since its release, Numa Numa Song has spawned many parody videos, TV series and even music videos of famous artists. You can still see the song on YouTube, but be warned: it will stick in your head forever.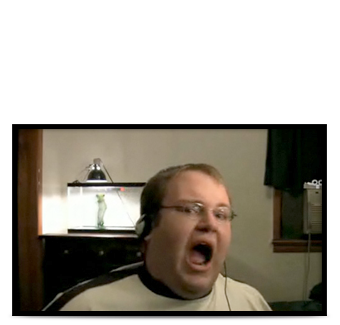 CHUCK NORRIS
Conan O'Brien, 2005
Chuck Norris is an American actor and a martial arts expert. Yep, he's tough. In early 2005, Norris became the object of an ironic Internet meme known as "Chuck Norris Facts". Chuck Norris jokes appeared all over the Internet and it set him up as the ultimate hero proclaiming his legendary toughness. Talk show host Conan O'Brien's Chuck Norris jokes were seen as an inspiration for the meme. Norris stated that he does not feel offended by them and finds some of them funny. And some are indeed hilarious, like this fact: Norris is bitten by a cobra and, after five agonizing days, the cobra dies.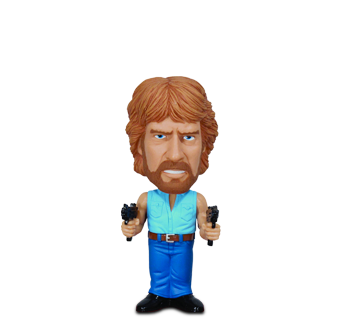 LOLcats
Collective idea, 2005
Actually, the first person to make funny pictures of cats with a humorous caption was photographer Harry Pointer in the 1870s. As stated in Maslow's Hierarchy of Internet Needs, "above all else users require funny pictures of cats" – even more than social networks, porn and fails. This is the insight LOLcats.com, a Web site full of funny pictures of cats with humorous captions, was built on. The text, by the way, is in a slang called "lolspeak" or "kitty pidgin" and is grammatically totally incorrect. LOLcats are posted on all sorts of blogs and forums, such as icanhas.cheezburger.com.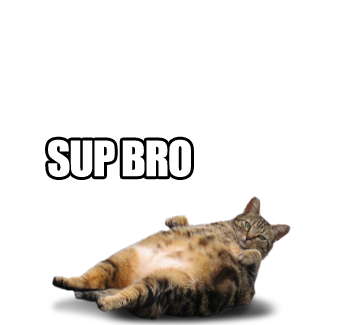 Leeroy Jenkins
Guild PALS FOR LIFE, Ben Schulz, 2005
Leeroy Jenkins is a meme that started in 2005 with the release of a video clip by the PALS FOR LIFE player guild on the World of Warcraft game forum. Leeroy Jenkins is the name of a WoW player character created by Ben Schulz. In the video we hear someone shout "Leeroy Jenkins!" While the players are discussing a battle strategy, Leeroy moves away from his computer and moments later all the players get killed. Blizzard, the company behind WoW, eventually paid tribute to Leeroy by creating an achievement called "Leeeeeeeeeeeeeroy!" in the game itself. The Internet meme was immensely popular and also spread to other media, including movies and TV shows.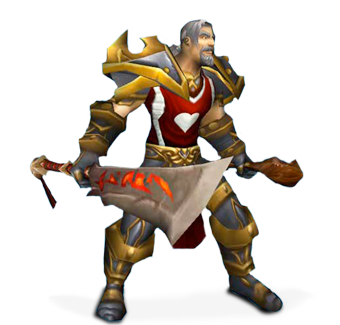 Rickroll
Collective idea, 2007
Rickrolling is a 2008 Internet meme, and is a bait-and-switch. With a Rickroll you trick someone to watch a music video – Rick Astley's hit single Never Gonna Give You Up – by claiming that it is something far more interesting. A person provides a hyperlink seemingly relevant to the topic at hand, but this link actually leads to Rick Astley's video clip. It is said that the Internet meme helped revive Astley's career.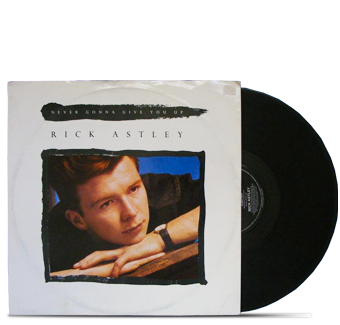 Elf Yourself
Jason Zada, 2006
It's simple: upload a picture of yourself, select an area and hit Submit. A moment later you see a dancing elf with your face on it. Works like a charm. The Elf Yourself interactive Web site and advertising campaign were launched in 2006 and have returned every season. OfficeMax contacted the New York company Toy to create multiple Web sites for their holiday campaign. Toy contacted Jason Zada and he then developed the Elf Yourself application. It was an instant hit: in 2006, the holiday-themed website received over 36 million visits in five weeks and 11 million elves were created.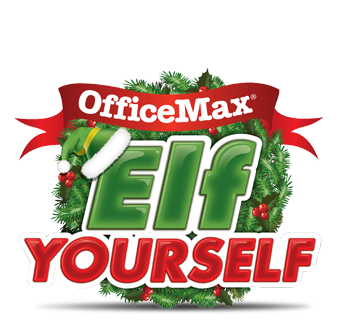 Double rainbow
Hungrybear9562 (Paul Vasquez), 2010
Paul "Bear" Vasquez, aka Hungrybear9562, posted this homemade video filmed in his front yard on YouTube on January 8, 2010. It sat there for months until late-night talk show host Jimmy Kimmel discovered it on July 3 and tweeted a link to the video. About an hour later, sports columnist Bill Simmons retweeted it. After that the video went viral and received more than 35 million views. So what does a double rainbow mean? Our guess is: we'll never know.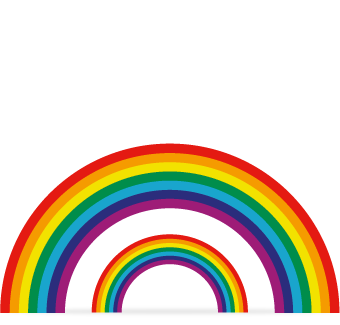 Nyan cat
Christopher Torres, Saraj00n, 2011
Nyan Cat is an 8-bit animation combining a cat, a cherry Pop Tart and the song Nyanyanyanyanyanyanya. Originally the cat was named Pop Tart Cat and illustrator Christopher Torres made the original drawing. On April 5, 2011, YouTube user Saraj00n combined the cat animation with the song and posted it online. Currently the original video has had more than 85 million hits on YouTube. Why that many? Like all surrealistic comedy, Nyan Cat is something you either get or you don't. Perhaps this is the secret behind this particular combination of a cat and a song that has captivated millions.